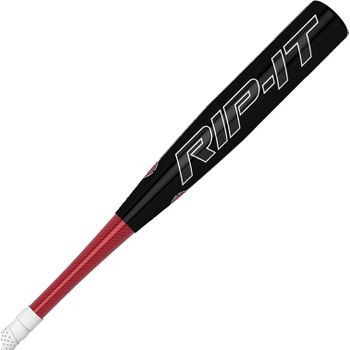 RIP-IT 2014 Prototype BBCOR AIR Elite -3 Adult Baseball Bat
RIP-IT 2014 Prototype BBCOR AIR Elite -3 Adult Baseball Bat The 2014 RIP-IT BBCOR Air Elite has once again proven why their bats are here to stay. Using a composite carbon fiber handle, and a new formula for the aluminum in the barrel. This two-
more...
Item is excluded from product discounts.
This Product is shipped from the manufacturer.
Shipping charge:
Description
Size Guide
Warranty
RIP-IT 2014 Prototype BBCOR AIR Elite -3 Adult Baseball Bat

The 2014 RIP-IT BBCOR Air Elite has once again proven why their bats are here to stay. Using a composite carbon fiber handle, and a new formula for the aluminum in the barrel. This two-piece bat is constructed using RIP-IT's Rifle Barrel Technology. This technological advancement removes weight from the barrel without reducing the overall wall thickness of the bat - keeping durability intact. This is achieved by cutting precise grooves inside the barrel, resulting in dramatically lower M.O.I. and increasing bat speed. The Rip-IT BBCOR Air Elite is the best BBCOR bat they have ever made, and the most balanced.

Acoustic Barrel
Looking to generate more singles from poor contact? The Acoustic barrel on the new BBCOR baseball bats helps you do it. This unique BBCOR bat feature is made possible because of the limited drop off in exit speed when contact is made outside of the sweet spot.

R2 Composite
This marks the first time Rip It has used composite in a BBCOR bat. The new composite handle design makes the 2014 AIR Elite even more balanced than before, allowing you to swing the bat faster, and ultimately giving you more power.

R2 Alloy
This is the latest and greatest aluminum from the lab at Rip It! Stronger than ever, this new alloy allows them to rifle the barrel with deeper grooves, and further down the barrel, while still maintaining durability. This allows the Elite Air to be their most balanced BBCOR so far.

Contact Grip
Feel the contact, not the sting. The new Prototype BBCOR baseball bats includes the most advanced grip ever put on a certified BBCOR baseball bat. The Contact grip is designed to provide excellent grip, incredible vibration elimination, and extreme durability.

Bat Specifications
Drop: -3 Adult bat.
Barrel: 2 5/8"
Certification: BBCOR Certified.
Material: R2 Alloy and R2 Composite.
Handle: Contact Grip.
Construction: Two-Piece Alloy.

Available Sizes: 31in 28oz, 32in 29oz, 32.5in 29.5oz, 33in 30oz, 34in 31oz.


Baseball Bat Sizing Chart
Bat sizing charts:
Under 60
26"
27"
28"
29"
29"
61-70
27"
27"
28"
29"
30"
30"
71-80
28"
28"
29"
30"
30"
31"
81-90
28"
29"
29"
30"
30"
31"
32"
91-100
28"
29"
30"
30"
31"
31"
32"
101-110
29"
29"
30"
30"
31"
31"
32"
111-120
29"
29"
30"
30"
31"
31"
32"
121-130
29"
30"
30"
30"
31"
32"
32"
32"
131-140
29"
30"
30"
31"
31"
32"
32"
33"
141-150
30"
30"
31"
31"
32"
33"
33"
151-160
30"
31"
31"
32"
32"
33"
33"
33"
161-170
31"
31"
32"
32"
33"
33"
34"
171-180
32"
33"
33"
34"
34"
181 & More
33"
33"
34"
34"
Age
5 to 7
8 to 9
10
11 to 12
13 to 14
15 to 16
17 & up
Length
24-26"
26-28"
28-29"
30-31"
31-32"
32-33"
33-34"
Softball Bat Sizing
To find the correct bat length for your softball-playing daughter, have her stand straight up with her arms to the side. Place a ruler to her side with the start of the ruler (the "0" mark) on the ground. Read the measurement at the end of her wrist, just where the hand meets the forearm. As a general rule, this measurement indicates the perfect bat length for her.
Another sizing method for Baseball and Softball
Another great means for determining bat size is what we'll call the wingspan method. Have your son or daughter stand up tall with their arms straight out (arms should be parallel to the ground as if they were trying to mimic an airplane). Measure from the very center of their chest out to the tip of their fingers. That measurement will give you the ideal bat length.
It's always best to try to size using a variety of methods to come up with their ideal. For youth which are still growing, we recommend that you go with the longest length obtained through the various sizing methods. We often use the break of the wrist method (described in the softball bat sizing above) along with this method and use the longer of the two.
Baseball Bat Videos
---
Baseball Express Videos - Baseball Bat Buying Tips
Aluminum/composite bats carry the manufacturer's warranty in addition to our 30-day "No Sweat" Guarantee. If your aluminum/composite bat is defective, the manufacturer requires that it be returned directly to them. Please call the manufacturer toll free for current details. For non-defective aluminum/composite bats, simply return it to us within 30 days, unused and in the original "shrink-wrapped" packaging.

Team Express and all its brands are authorized bat dealers. All bat purchases will come with a valid sales receipt, and we can provide a copy of a sales receipt at any time to the original purchaser.

Rip-It Bats: 1-407-464-3764
Customers who viewed this also viewed these