Description
Size Guide
Warranty
Others In Series
DeMarini
DeMarini 2014 Vexxum -3 Adult Baseball Bat (BBCOR)
Step into the box and start your engine. The power of the new 2014 Vexxum NVS comes not from strength or speed, but from the two combined. Employing the new Velocity System barrel design, this bat is now the lightest swinging aluminum barrel bat in the lineup. With bat speed up, you generate power unlike ever before.
X10™ Alloy Barrel
A proprietary blend of alloy agents designed to create optimal strength at the thinnest points. By fine-tuning the thickness of the barrel walls, the ultimate sweet spot is achieved.
NVS Barrel Design
Used in the Vexxum NVS, Demarini's new NVS barrel design brings power and speed together by letting the geometry do the work. The innovative, lightweight barrel has an explosive sweet spot consistent throughout its entirety. This creates an aluminum barrel with the lowest swing weight and powerful responsive performance.
C6™ Composite Handle
The wide weave pattern of the C6 composite offers more flex than other handles. This gives the bat a trampoline effect so balls absolutely jump off of the barrel.
Half & Half™

The handle and barrel are performance matched to create optimum flex and recoil with a burst of ball launching energy at impact.
N2M™ End Cap

Specifically tuned to absorb vibration while maximizing power.
Hybrid Comfort Grip
Two-piece grip built for ultimate comfort and tack.
Bat Specifications
Drop: -3 Adult Bat
Barrel: 2 5/8"
Handle: C6™ Composite
Certified: BBCOR
Barrel Load: Balanced
Material: X10™ Alloy/Composite Handle
Construction: Two-piece
Grip: Hybrid Comfort Grip
Warranty: One Year Manufacturer's Warranty
Available Sizes: 34 31
Need Help Choosing The Right Size Bat?
Click Here for a Bat Sizing Guide.
Most aluminum/ composite bats carry a one-year manufacturer's warranty against defects. Team Express also offers a 30-day return policy for all unused new bats. (Please see the details of the warranty and return policy below.)

NEW (UNUSED) BATS:
If you are not completely satisfied with your new bat, you may return it to us in its original "shrink-wrapped" packaging within 30 days from the date of shipment. Simply call us at 800.937.4824 for a return label.

DEFECTIVE OR DAMAGED BATS
All defective or damaged aluminum/ composite bats must be returned to the manufacturer. Defective or damaged bats may be returned to the manufacturer for repair or exchange within one year of the purchase date. The bat manufacturers' phone numbers are shown below for your convenience. Please call them directly to obtain a return authorization number (RA#). We recommend that you keep your bat invoice as your proof of purchase.

DeMarini Bats: 1-800-937-2287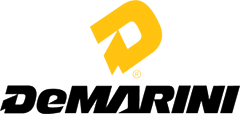 One player and one team at a time, DeMarini has taken the baseball world by storm, quickly becoming a leading name in college baseball. In the past seven years, more than 250 college teams have joined DeMarini Nation - Including top teams like Arizona State, Cal. State Fullerton, Vanderbilt, UC San Diego, UC Irvine and University of Tampa. Will you be next?
Customers who viewed this also viewed these