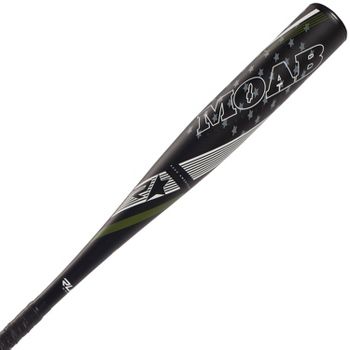 Rude American 2014 MOAB Power Engineered -3 Adult Baseball Bat (BBCOR)



Rude American 2014 MOAB Power Engineered -3 Adult Baseball Bat (BBCOR) The -3 BBCOR.50 Rude American MOAB Power Engineered bat is made from a proprietary scandium alloy blend with a unique weight distribution that is at the edge of the performanc
more...
Item is excluded from product discounts.
This Product is shipped from the manufacturer.
Shipping charge:
Description
Reviews
Size Guide
Warranty
Rude American 2014 MOAB Power Engineered -3 Adult Baseball Bat (BBCOR)

The -3 BBCOR.50 Rude American MOAB Power Engineered bat is made from a proprietary scandium alloy blend with a unique weight distribution that is at the edge of the performance standard and provides for peak performance for the power hitter. These bats are hot out of the box and do not require a break in period. Add our proprietary design and a proper demo session in order to achieve the fastest possible ball speed off the MOAB bat of your choice for your individual swing.

Rude American Bat Company MOAB bats are high end high performance 1 player bats. Do not use with jug balls or loan out to the team. Help keep your Rude American MOAB bat at the highest performance level.

MOAB - MOTHER OF ALL BATS
Are you swinging the right bat?

Bat Specifications
Drop: -3 adult bat.
Barrel: 2 5/8".
Certification: BBCOR Certified.
Material: Scandium Alloy.

Available Sizes: 31in 28oz, 32in 29oz, 33in 30oz.

Good Grip
Great Pop
Large Sweet Spot
Well Balanced
Comments about Rude American Bat Co. Rude American 2014 MOAB Power Engineered -3 Adult Baseball Bat (BBCOR):
Got this for my son 32/29 in the spring and he is just absolutely tearing the cover off of the ball. They say that the ball comes off 3-4 mph than any bat on the market and I believe it!!!
Baseball Bat Sizing Chart
Bat sizing charts:
Under 60
26"
27"
28"
29"
29"
61-70
27"
27"
28"
29"
30"
30"
71-80
28"
28"
29"
30"
30"
31"
81-90
28"
29"
29"
30"
30"
31"
32"
91-100
28"
29"
30"
30"
31"
31"
32"
101-110
29"
29"
30"
30"
31"
31"
32"
111-120
29"
29"
30"
30"
31"
31"
32"
121-130
29"
30"
30"
30"
31"
32"
32"
32"
131-140
29"
30"
30"
31"
31"
32"
32"
33"
141-150
30"
30"
31"
31"
32"
33"
33"
151-160
30"
31"
31"
32"
32"
33"
33"
33"
161-170
31"
31"
32"
32"
33"
33"
34"
171-180
32"
33"
33"
34"
34"
181 & More
33"
33"
34"
34"
Age
5 to 7
8 to 9
10
11 to 12
13 to 14
15 to 16
17 & up
Length
24-26"
26-28"
28-29"
30-31"
31-32"
32-33"
33-34"
Softball Bat Sizing
To find the correct bat length for your softball-playing daughter, have her stand straight up with her arms to the side. Place a ruler to her side with the start of the ruler (the "0" mark) on the ground. Read the measurement at the end of her wrist, just where the hand meets the forearm. As a general rule, this measurement indicates the perfect bat length for her.
Another sizing method for Baseball and Softball
Another great means for determining bat size is what we'll call the wingspan method. Have your son or daughter stand up tall with their arms straight out (arms should be parallel to the ground as if they were trying to mimic an airplane). Measure from the very center of their chest out to the tip of their fingers. That measurement will give you the ideal bat length.
It's always best to try to size using a variety of methods to come up with their ideal. For youth which are still growing, we recommend that you go with the longest length obtained through the various sizing methods. We often use the break of the wrist method (described in the softball bat sizing above) along with this method and use the longer of the two.
Baseball Bat Videos
---
Baseball Express Videos - Baseball Bat Buying Tips
Aluminum/composite bats carry the manufacturer's warranty in addition to our 30-day "No Sweat" Guarantee. If your aluminum/composite bat is defective, the manufacturer requires that it be returned directly to them. Please call the manufacturer toll free for current details. For non-defective aluminum/composite bats, simply return it to us within 30 days, unused and in the original "shrink-wrapped" packaging.

Team Express and all its brands are authorized bat dealers. All bat purchases will come with a valid sales receipt, and we can provide a copy of a sales receipt at any time to the original purchaser.

Rude American Bats: 1-855-BAT-RUDE (228-7833).
Customers who viewed this also viewed these