Description
Reviews
Size Guide
Warranty
Others In Series
DeMarini
DeMarini 2014 CF6 Insane -10 Fastpitch Bat
The Insane adds a little endload for the punch and power of a -9. This year, DeMarini has added the all new D-Fusion handle. By eliminating vibration, it allows you to crank up the performance on an endloaded barrel without sacrificing confidence.
Paradox™ Composite Barrel
Using the new Paradox Composite, DeMarini made a stronger composite that is shaped to perform softer. This makes for a bigger, hotter, more responsive sweet spot, which leads to consistently powerful results.
Stacked Barrel Construction
Two or more independent walls create a dynamic springboard hitting surface giving you a sweet spot with an explosive trampoline effect.
D-Fusion™ Handle
Gives you the best of both worlds. An end loaded barrel as hot as possible, while eliminating vibrations from miss hits.
Geo Cap™
Internal End Cap is loaded with load balancing triangles to maintain stiffness of barrel and provide smooth feel.
Rotation Index™
Numerical system reminds players to rotate bat extending its life.
Bat Specifications
Drop: -10 Fastpitch
Barrel: 2 1/4"
Handle: D-Fusion™ Handle
Certified: USSSA® 1.20 BPF, ASA®, NSA®, ISA®, ISF®
Barrel Load: Endloaded
Material: Composite
Construction: Two-piece
Grip: TR3™ F.L.O. Grip Warranty: One Year Manufacturer's Warranty
Available Sizes: 33 23OZ
Taking Awhile To Get Used
Comments about DeMarini 2014 CF6 Insane -10 Fastpitch Bat:
Bat is hot right away. The end loaded bat swings differently and my daughter is having a hard time getting used to it. Definitely not for a contact hitter. Power hitters dream once you get used to it.
Comments about DeMarini 2014 CF6 Insane -10 Fastpitch Bat:
My daughter had the 2013 Insane model and loved the bat. Unfortunately, someone used the bat, got jammed up, and it cracked on the handle. Few weeks prior i purchased the 2014 model to surprise her, but she had to use it sooner. She actually didn't like the feel of this bat. It seemed lighter to her. I called Demarini since the other bat is under warranty, but they are completely out of the 2013 Insane bat, and can no longer get it. They confirmed that the bat is lighter and the end load is not as heavy. She used a 33/23. They recommended that she use the 34/24. they said, this should feel more like the 2013 model to her. Still waiting for it, and will update when she gets it.
Need Help Choosing The Right Size Bat?
Click Here for a Bat Sizing Guide.
Most aluminum/ composite bats carry a one-year manufacturer's warranty against defects. Team Express also offers a 30-day return policy for all unused new bats. (Please see the details of the warranty and return policy below.)

NEW (UNUSED) BATS:
If you are not completely satisfied with your new bat, you may return it to us in its original "shrink-wrapped" packaging within 30 days from the date of shipment. Simply call us at 800.937.4824 for a return label.

DEFECTIVE OR DAMAGED BATS
All defective or damaged aluminum/ composite bats must be returned to the manufacturer. Defective or damaged bats may be returned to the manufacturer for repair or exchange within one year of the purchase date. The bat manufacturers' phone numbers are shown below for your convenience. Please call them directly to obtain a return authorization number (RA#). We recommend that you keep your bat invoice as your proof of purchase.

DeMarini Bats: 1-800-937-2287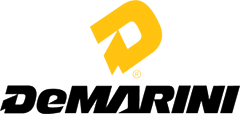 One player and one team at a time, DeMarini has taken the baseball world by storm, quickly becoming a leading name in college baseball. In the past seven years, more than 250 college teams have joined DeMarini Nation - Including top teams like Arizona State, Cal. State Fullerton, Vanderbilt, UC San Diego, UC Irvine and University of Tampa. Will you be next?
Customers who viewed this also viewed these