Jugs Sports Protector Series Base Screen Replacement Net

Hitting facility tough replacement protective screen designed for S6005 Base screen. Black, double-thick 691-90 ply, poly-E netting. Two-year guarantee on netting and frame: no one guarantees their screens longer.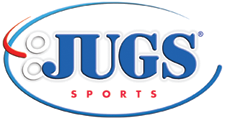 Jugs provides quality baseball and softball equipment. We carry a wide selection of Jugs baseball and softball equipment, including practice baseballs, practice softballs, game baseballs, game softballs, pitching machines, practice nets, practice screens, soft toss and training equipment.
Customers who viewed this also viewed these